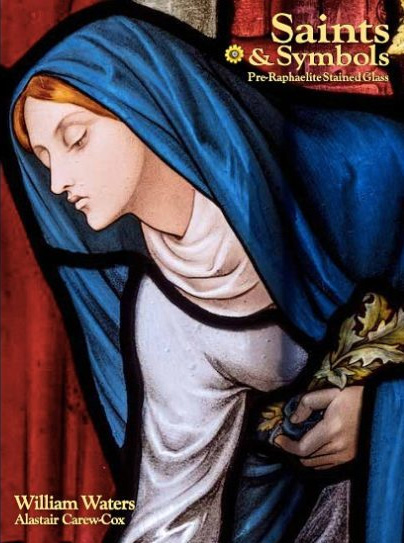 Saints & Symbols, The Stained Glass of Ford Madox Brown, William De Morgan, John George Sowerby, Walter Crane and Frederic Shields
Hardback Book
As the standards of design and production of nineteenth century stained glass were raised it drew the attention of Fine artists. The five artists considered in Saints & Symbols were active on the periphery of the Pre-Raphaelite circle and were responsible for varying the medium in their individual ways. All were strongly influenced by and were associates of William Morris. Although well known in other fields, their work in stained glass has not previously been investigated to any great degree.
Ford Madox Brown, (1821-1893) present at the founding of the Pre-Raphaelite Brotherhood, worked with Morris Marshall, Faulkner and Company offering an alternative style to that of Burne-Jones. His unique earthy realism was a vehicle for his committed humanitarian philosophy but unfortunately a quarrel with Morris curtailed his contribution and after 1874 he no longer designed. A masterpiece in the east window of Holy Trinity, Meole Brace, is a re-interpretation of Adam and Eve's expulsion from the Garden of Eden in which he presents a powerful characterisation of contemporary figures.
Following the example of Morris and Burne-Jones, William De Morgan (1839-1917), after leaving the Royal Academy Schools, created a studio for making stained glass and for some seven years made a comfortable living. Not confident with his figure drawing, experiments with colours in the kiln led him to pottery and a change of career. The small corpus of work, located over a wide geographical area, allows an opportunity to compare patterns and motifs with pots, tiles and glass.
John George Sowerby's (1849-1914) studio for making and designing stained glass, within his family's glass factory in 1879, gives an insight into the interface between commercialism and the beginning of the Arts and Crafts Movement. Employment of the artists Thomas Ralph Spence (1855-1903) and Arthur Hardwick Marsh (1842-1909) did not prevent clashes with the board of directors which led to its decline. However, during its short life, the studio produced some outstanding windows, notably those of St. George's church, Jesmond, Holy Trinity church, Aldershot, and a number of secular windows.
Famous for his paintings, book illustrations, and other crafts Walter Crane (1845-1915) made occasional designs for glass which took the medium into the realms of Symbolism. He first worked with William Morris and later his designs went to extremes of line, colour and subject matter. An influential teacher, he and his pupils took the medium away from the moribund state of late aestheticism bringing a versatility to stained glass design demonstrating its equal to that of the Fine arts. The windows in Holy Trinity Church, Kingston upon Hull and The Church of the Ark of the Covenant, Stamford Hill, are dramatic examples.
Frederic James Shields (1833-1911), a Manchester artist and friend of Rossetti, had great ambitions for stained glass. His series of windows in Eaton Hall Chapel, St Elisabeth's, Reddish and St. Anne's, Manchester, are splendid attempts at a contrapposto style akin to Michelangelo. With Burne-Jones and Crane he showed how effective stained glass could be as a means of communicating complex and subtle ideas on a grand scale.
The majority of windows produced by the five artists are included in the book, with emphasis on details difficult to see with the naked eye along with the original cartoons where available. Saints & Symbols completes the story of Pre-Raphaelite stained glass discussed in Angels and Icons, 2012, and Damozels and Deities, 2017, by William Waters and Alastair Carew-Cox.